It's 3 o'clock
I'm on a street corner hailing a cab. One screeches up, "where ya going?"
"Lagurdia," the cabbie waves me in.
"The traffic's bad want to take the tunnel? I always look for faster options" He spins the wheel and we start to cut across the island. I have plenty of time before my flight but he has a thirst for speed, we zip down avenues at 40 mph topping out at 75 on the Brooklyn Queens Expressway.
5:15
Traveling a lot for work has its advantages, 35,000+ miles later and I frequently get bumped to first class. I order a cup of tea and start a movie on my iPad.
7 at night
We touch down in Chicago. I've walked this route to the taxi line so many times I'm on auto pilot. People in airports always move out of your way if you look like you have somewhere to go. Maybe its being an "asshole new yorker" but I always walk straight without budging, like a game of chicken.
8 pm
I'm in my hotel room, my phone buzzes as a torrent of emails sync. At home we had just ordered the book Where Chef's Eat and it's arrived. Clara's emailed me all the pages for Chicago, perfectly timed for dinner. Cross referenced with Google I settle on Portillo's. Sounds like a Chicago landmark and only a 15 minute walk from my hotel.
Inside Portillo's I'm instantly hit by the kitch factor. It's like Nathan's of New York mixed with a dirty Chucky Cheese. I order two dogs, one with the works. Despite the looks of the place, the foods good. I eat quick and take a longer route back to the hotel. Piecing together a mental map of Chicago.
7 am
Pulling myself into the shower I quickly get ready and head to a Panera I spotted the night before. Panera is great when traveling in a rush. With a meeting soon, you need fast food that's not "fast food".
First coffee of the day in my system and I start towards the clients office. I've begun to walk around Chicago instead taking a cab. This has lead me to realize Chicago might be better by car, but it has helped me to get a sense of where I am here.
Client meeting
Stepping inside cell bars down to zero and work mode clicks on.
Noon
The only meeting of the day is wrapped and I'm set free. I stumble upon the Donut Vault; "Open 8 until we run out". I duck inside, "still have any?"
"We have 5 left"
"Perfect"
Apricot stuffed in hand, "Where would you recommend I grab lunch" (a local always trumps foursquare.)
Lunch
I check into Xoco, a Mexican torta place. They specialize in local ingredients mixed into delicious combos under a bun. Lunch is time to plan next steps. I've started to realize foursquare is a great and a horrible travel companion. As its become popular the "trending" places are making the hidden gems more hidden. It's a good sign now if a place doesn't have many reviews, but a lot of great photos from Instagram. This is how I discovered Brewhaus.
3 o'clock, work time
Stepping inside Brewhaus I know this is the spot. My stable soy latte ordered I settle into some wireframing for awhile hoping to knock out most of my work leaving tomorrow open. The best latte I've had in Chicago, I decide to grab a pound of beans for home.
"You don't need these ground right, your gonna do that at home," the cashier asks. I appreciate they expect a certain type of customer.
7
I swing by the hotel before heading out to M Burger. Another recommendation from Where Chef's Eat, I get the sense this is Chicago's Shake Shack. The closest location has a unique view from inside. Sitting along the back wall you can look right into a high end restaurants kitchen. Probably one of the better views I've seen eating inside. Chefs darting around, glowing dishes being taken out. Very cool.
8-11
Burger fueled I explore the city. Sporadic snow storms blow through highlighting spotlights pointed at buildings. A few wrong turns and lots of back tracking I zig zag my way around the city. Ending up at dead ends or vacant streets I'm reminded how different other cities are from NYC.
Clara's been sick all week, as I explore I can feel a sniffle creep up on me. I head back to my room, laying down I know a cold is brewing...
8 in the morning
My only meeting is at 5 today. A full day of working and exploring ahead, and then I sit up in bed. Over night the sickness has been hard at work and my body feels like a ton of bricks. I pack up. Packing light will really help today. Backpack and briefcase only will let me wonder without having to return to the hotel. A dirty dinner near by fills me up quickly and I keep moving.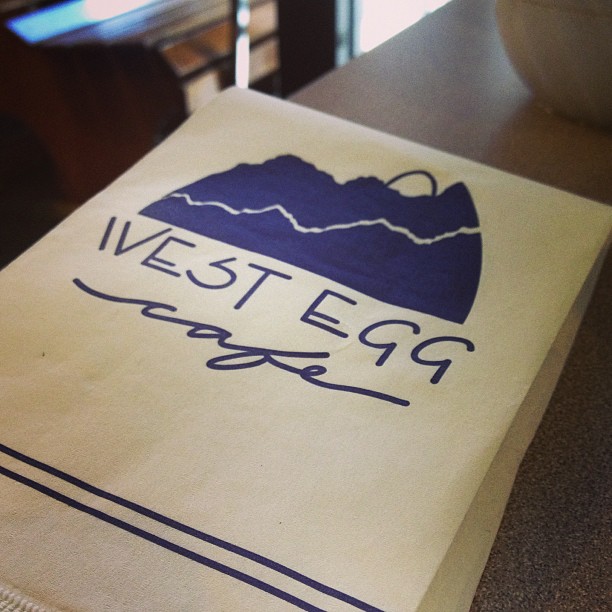 10-5
The next few hours I jump between coffee shops chasing free wifi, avoiding the below freezing weather outside and trying to stave off getting sicker. Lunch oddly enough is inside a mall, foursquare doesn't inform you very well where places really are. Hannah's Prazzels is a nice surprise. Tasty sandwiches prepared on pretzel baguettes. Lunch jolts me with enough energy to wonder poke around Millennium Park.
5, meeting notification peeps
"Your not sick, your not sick, you've got a clear head!" I tell myself as I ride the elevator upstairs. I'm presenting to a few execs and need to set aside the idea I'm sick and dial my brain into user flows and complex systems.
7
A taxi pulls up, hoping inside I text Clara, "well that went well, and my cold seems like its gone... so weird." The ride to the airport is uneventful. I grab a bite in the terminal. Eating in airports is all about comprises. You'll never get what you want and it's never the quality it should be.
9, boarding
48 hours, 2 meetings, 1 cold, 8 lattes later I'm on the way back to NYC.